(Reuters) - British Prime Minister David Cameron said on Monday that the coalition government must "focus on what matters" in the wake of dismal local election results for his Conservative party.
David Cameron could be gone by Christmas, claims Nadine Dorries. Picture: AP
Cameron said his party cannot use "familiar excuses", such as low turnout and economic downturn, for the dip in its popularity.
"I get the message, loud and clear. I know that the familiar excuses aren't enough," Cameron said in an op-ed article in the Daily Telegraph newspaper.
British Prime Minister David Cameron
Voters punished the Conservatives, the government's leading coalition partner, for unpopular austerity measures that failed to avert a double-dip recession.
Cameron's 'big society' undermined by cuts and distrust, says study
"The message people are sending is this: focus on what matters, deliver what you promise - and prove yourself in the process. I get it."
Cameron said the government must not be seen as a "bunch of accountants," but must encourage the "strivers, the battlers, the people with aspiration" and stop their lives becoming a "daily grind".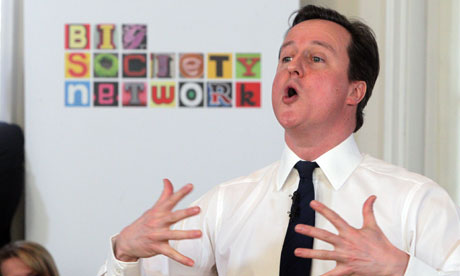 DAVID CAMERON'S LURCH TO RIGHT AS CRISIS GROWS OVER POLL BATTERING
The re-election of Boris Johnson in the London mayoral race softened the blow, but there was no mistaking the message from voters to the Conservatives and their Liberal Democrat coalition partners.
"People want to know that we're not just a bunch of accountants trying to turn around the British economy like it is a failing company, but that we are resolutely on their side as we do this vital work," said Cameron.