President Barack Obama's surprise backing of same-sex marriage got mixed reviews around the world Wednesday, but appeared to be doing him no harm in this U.S. election year.
Obama surprised the world by saying he now personally supports same-sex marriage. He had been expected to navigate more cautiously through the issue after Vice-President Joe Biden caught many off-guard with a clear statement of support on Sunday.
Most organized religions were reserved at best, while gays and liberal Christians marveled at the president's move, which distances his Democratic Party campaign significantly from the Republicans and their expected candidate Mitt Romney.
"We cannot be silent in the face of words or actions that would undermine the institution of marriage, the very cornerstone of our society," Roman Catholic Cardinal Timothy Dolan, president of the U.S. Conference of Catholic Bishops, said in a statement. "The people of this country, especially our children, deserve better."
Public opinion in the U.S. is split on the issue, according to a recent Gallup poll cited by the website
Politico
. Fifty per cent of Americans believe same-sex marriage should be legally recognized, the latest poll suggested, a slight drop from last year's 53 per cent.
While most conservative Christians were predictably appalled, others found a perverse political hope in Obama's position.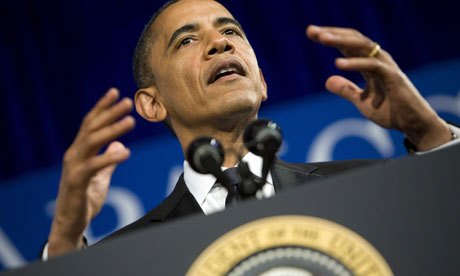 "This could definitely get them riled up … hopefully," Caryl Scales, a member of Hampton Road Baptist Church in DeSoto, Texas, told Reuters. "I'm not happy with it. I believe scripture. God's word says gay marriage is wrong."
On Wednesday, Obama called Rev. Joel Hunter, who prays often with the president, and told him what he was doing. Hunter, an evangelical pastor and founder of the 15,000-member Northland church in the Orlando, Fla., area, told The Associated Press they spoke for about 15 minutes.
"I said I disagreed with this decision," he said. "I said, more precisely, 'This is not how I read Scripture,' and he totally understood that. In the end, he was doing what he believed was right, what he thinks is authentic for him at this time in his life." In the Muslim world, reaction was cautious.
Former New York mayor Rudy Giuliani told CBS News that how the issue plays in New York or California matters less than how the reaction goes in swing states such as Ohio and North Carolina that will decide the outcome of the presidential election.
Giuliani himself, a Republican, favours same-sex civil partnerships, though not marriage.
"Its time has come in New York," he said. "Its time has not come in North Carolina."
Obama Endorses Gay Marriage: 'I Think Same-Sex Couples Should Be Able to Get Married'
North Carolina passed a constitutional amendment to ban gay marriage Tuesday by 61 per cent to 39 per cent, which presents risks for Obama.
In Malaysia, Ibrahim Ali, an independent member of the country's parliament and leader of a rights group for the country's majority Malay Muslims, said: "We want good relations with America, but America must not interfere in other countries' policies on this issue."