Live coverage of the Queen's speech which is expected to feature a package of family-friendly laws as the Colalition attempts recover from a catalogue of recent problems and a local election mauling
Queen's Speech goat tradition takes time
Facts and figures - the Queen's Speech
The Queen's Speech: What to expect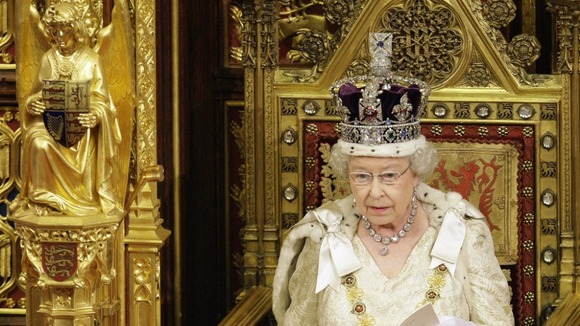 Today's Queen's speech will set out the coalition government's plans for the forthcoming parliament. Channel 4 News looks at some of the measures it is likely to contain.
Among the most widely expected aspects of the Queen's speech is the move to split banks into their retail and investment banking functions.
This is designed to stop the collapse of a bank's commercial arm jeopardising its high street operations.
The move was recommended by Sir John Vickers after he was given the job of reviewing the banking sector in the wake of the financial crisis.
It also suggested that only ring-fenced banks should be permitted to offer retail banking services. Banks would have until 2019 to make the changes.
A bill to control the pay of top executives, rules on employment tribunals and redundancy and cut red tape for businesses.
Simplified tribunals
Companies such as Aviva have seen shareholder revolts, which saw the firm's chief executive Andrew Moss stand down on Tuesday.
Plans by the government for a simplified employment tribunals system are also expected, which could see decisions on unfair dismissal taken by a single judge, rather than the current panel which includes a trade union representative.
Tribunals could also be restricted to cases of serious discrimination only.
Driving under the influence of drugs could be made its own specific offence in this bill.
In the future, police will be equipped with handheld detection devices to test saliva at the roadside in a similar way to using a breathalyser to test for alcohol.
Offenders could face a fine of up to £5,000, a driving ban of at least 12 months as well as a prison term.
Lords reform
The exact drugs covered by the offence and the specified limits for each will be decided following advice from a scientific review panel and public consultation.
Plans to reform the Lords expected to be watered down, according to
Channel 4 News
Political Editor
Gary Gibbon
.
Writing on his blog, he said: "As has been reported over the Bank Holiday weekend, the Queen's Speech tomorrow won't go as hard on Lords reform as once expected - it'll talk about the government's desire to seek "consensus" on the issue.
"You won't get Lib Dems shouting it from the roof-tops but a trade-off discussion is going on behind the scenes.
"The original David Cameron commitment, to pursue Lords reform (an 80 per cent elected chamber phased in over time) and, if necessary, back it with the use of the parliament act, forcing it through the House of Lords, is in the process of being folded up and packed away in the face of massive, coordinated and determined opposition from Tory MPs.
The government has already investigated ways in which to reform libel laws, which could include claimants having to show they have suffered serious harm before suing for defamation.
There could also be a system of preliminary hearings in which a judge could throw out spurious cases. "Following a draft bill last year, a full bill is now expected."
Reports have suggested that measures in the Queen's speech could allow courts in England and Wales to start televising some of their proceedings.
It is likely experiments would start with the court of appeal, but sentencing of criminals and the summing up of judges may also be included.
Back in April, David Cameron announced that he wanted to see "gaps" in national security plugged, which included plans for increased internet monitoring. This caused friction with his Liberal Democrat partners.