Hilary Clinton
went
makeup-free
in Bangladesh to promote democracy abroad! When she showed up for speaking engagements, she donned her glasses and just a hint of lipstick. Naturally, Hilary, 64, received criticism. Fox News said she looked "tired and withdrawn." However, Hilary couldn't care less what people think!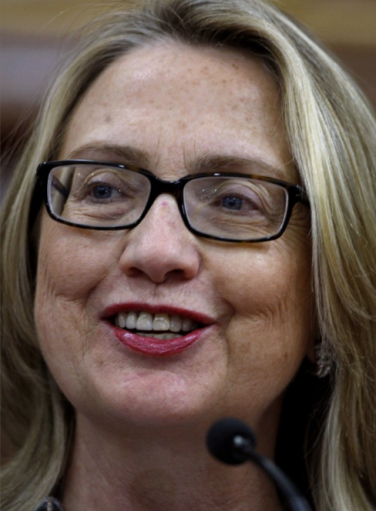 Hillary Clinton Without Makeup: Au Naturale!
In an interview with CNN May 8, Hilary said, "I feel so relieved to be at the stage I'm at in my life right now. Because you know if I want to wear my glasses I'm wearing my glasses. If I want to wear my hair back I'm pulling my hair back. You know at some point it's just not something that deserves a lot of time and attention. And if others want to worry about it, I let them do the worrying for a change. It doesn't drive me crazy anymore. It's just not something I think is important anymore."
I say bravo, Hilary! Anyone who's smart enough to run for President of the United States should be able to embrace her natural beauty anytime she wants!
Hillary Clinton faces criticism for going makeup-free in public
What do you think, HollywoodLifers? Sound off below!
Hillary Clinton's Makeup-Free Photo: Putting On a Brave Face
Ethics Hero: Hillary Clinton