Despite being the biggest female artist in the world right now, Adele's fashion credentials don't seem to add up to much. According to the Vogue editor, the singer's recent turn as cover star was one of the worst-selling issues of the magazine ever.
"Adele is the most popular woman in the world, but one of the worst sellers we've ever had," Alexandra Shulman said at the launch of her book last night. On the same evening, Adele herself picked up two coveted Ivor Novello music awards.
Given how many people identify with Adele's music, we can't help wondering why her face didn't attract many more readers. Could it be that Adele's anti-establishment look felt too out of place for regular Vogue readers used to size zero models? Or was the photography, which zoomed in on the star's face and failed to show off any of her clothes or accessories, the problem? After all, Vogue is a fashion magazine.
"I find there has to be a relationship with the person on the cover that goes beyond how they look," Shulman explained."Music stars haven't sold at all well," she added.
Unsurprisingly her most coveted cover star would be the Kate Middleton, who's been finding it hard to put a foot wrong in style circles lately.
"I'd love to have Kate Middleton on the cover,' Shulmam told the audience, admitting, "I assure you it is not for want of asking."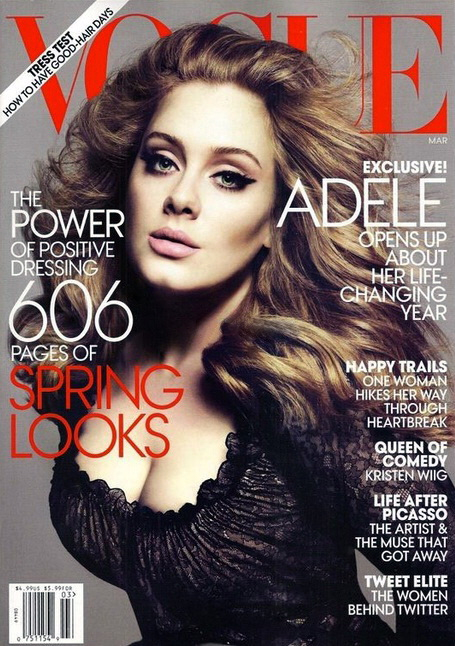 Kate still appears to be disinterested in becoming a fashion icon, but
recent appearances
have shown her impressive style evolution, so maybe it won't be long before Shulman gets her wish.