British soldiers from in a combat operation in Malgir, Helmand province, Afghanistan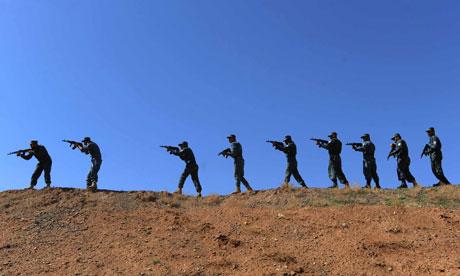 Taliban infiltration fears grow as 'rogue' Afghan police gun down British soldiers
Members of the Afghan national police force have shot dead two British soldiers in the troubled Helmand Province in southern Afghanistan.
On Sunday, the British Ministry of Defense confirmed that the soldiers were killed on Saturday by two Afghan police forces at a military base in the southern city of Lashkar Gah.
A statement by the ministry says that one of the soldiers was with the 1st Battalion Welsh Guards, while the second was an airman from the Royal Air Force.
According to the International Security Assistance Force (ISAF), one of the gunmen was killed but the second one managed to escape.
The US-led forces suggested that the gunmen were Taliban militants dressed as police officers. However, Afghan authorities say the shooters had been members of the national police for a year.
The recent killings bring the number of British soldiers killed in Afghanistan this year to 18.
The incident is the latest in a string of attacks by Afghan security forces against foreign troops in the war-ravaged country.
Since the start of the US-led military intervention in Afghanistan in 2001, 412 British service personnel have been killed.
Britain has more than 9,000 troops stationed in the war-torn country.
Insecurity continues to rise across Afghanistan despite the presence of about 130,000 foreign forces.