"I think I am. I think we're having a lot of fun," says Kris. "But I'm acutely aware that one day it will be over."
The youngest of the Kardashian klan are, in fact, Jenners. Kendall and Kylie Jenner, daughters of Bruce and Kris, proceed to give Oprah a tour of their massive closets. Think racks and racks of clothes, rows and rows of shoes. Being around cameras, they say, is easy. Since the two started on the reality show at such a young age, they say it comes second nature to them.
Considering she still has to get divorced from Kris Humphries, "I'm not thinking about marriage right now," says Kim. "To have him (Kanye) in my life this way, says a lot about us."
She also maintains that they are not moving in together, but she did indeed buy him a lamborghini for his birthday.
Part two of
Oprah's Next Chapter
with the Kardashian klan aired on Sunday on OWN, and after a quick
recap
of last week's show, the special picked up right where it left off: leaving viewers hanging with the question posed to Kim, "Is Kanye West your new fairy tale?"
Except Oprah already revealed a large part of Kim's
answer
to that question in excerpts released late last week to promote the special!
Even so, the Kanye talk continues. "I don't know why it took us so long to get together," Kim says of Kanye. "I think we've always had an attraction to each other...one day it just happened. It took me by surprise."
Does he fit the bill of what she's looking for in a man? "He does," says Kim, who says she's "apprehensive to talk about it (the relationship)."
Are they together for a publicity stunt? "No," says Kim. "It's your heart you're playing with. I couldn't sacrifice my heart for a publicity stunt."
As for Kanye's bad boy image, Kim isn't worried. After all, she says, people consider her to be a hard-partying rich girl. "I hardly drink, I go to church on Sundays," says Kim. "I'm so far removed from my image."
Does Kim know she's beautiful?
"I hate to talk about myself. I'm so critical," says Kim, who does think she's "pretty," but can't bring herself to admit to "beautiful." Looking this way, she tells Oprah, is a full-time job.
Now, what about these so-called product Tweet endorsements? Does she get paid for them? It's all in the contracts, says Kim. "Like you do a certain amount of appearances, there has to be a certain amount of tweets."
Where are you most at peace? "At my mom's house, or on a vacation."
Talk turns to Kim's "brand," which the reality star says is now about her fans, whereas before it was "more about me." Oprah calls her answer "perfect," and the pair clasp hands.
Having wrapped things up with Kim -- she didn't tear up once! -- Oprah moves on to talk about Khloe's impromptu wedding to Lamar Odom, who says "the love" is what surprised him the most about joining this family. Khloe says she's "so grateful" for their reality show. Yes, their engagement after roughly one month of dating was crazy, but at the time Khloe says she didn't think so.
"I don't feel the pressure by outsiders" to make the marriage work, says Khloe. She
tries
not to read what people say about her. Are they trying to get pregnant? "Yes, we're always trying," admits Khloe.
Now it's Scott's turn. Two years ago, Kourtney gave birth to their son Mason. She's now expecting her second child, a baby girl, with longtime love Scott Disick. "We had a name (picked out) pretty much since Mason since we thought he might be a girl," says Kourtney. "We're not sharing it (the name)."
Oprah points out that Scott is the black sheep of the family. ""Yeah. ...I am insecure about a lot of things," says Scott, who is an only child and not used to being around such a large family. His rude behavior, he says, comes down to his insecurity. What's been the hardest thing to watch? "I would probably just say maybe Kourtney crying, one, two, maybe a million times," says Scott.
Oprah wants to know about Scott's family. "I think I had a somewhat normal upbringing," says Scott, who reveals his parents had trouble conceiving a child. Because of that, he concedes, he might have been a bit spoiled.
His behavior, says Oprah, had made lots of people think that Kourtney was too good for Scott. But still, she gave him a chance. "I was wanting to see what he would be like once we had a child," says Kourtney.
Oprah has now been at the house for seven hours and interviewed everyone -- except for family patriarch Bruce Jenner. Sitting down with Bruce and wife Kris in their backyard cabana, Bruce is "ready to go." He says he is used to being "in the shadow of estrogen," as Oprah puts it.
Any moments that Bruce might want to take back? "The only thing, the whole (Kim and Kris) wedding thing," says Bruce. "We went so overboard on that. And, the way it turned out and everything. ... And, because I mean at the time it was honest, it was love, it was exact, I mean, I was all in, you know? But then it turned so quickly."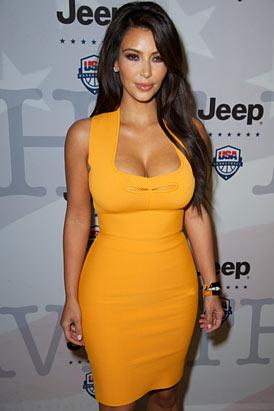 Finally, Oprah asks Kris if she's "prepared for the day the cameras might go away."